There are times when our lips need a little more attention and TLC.  This month's spotlight is on lips and prepping them to stay smooth and hydrated all year round.  Did you know that your lips don't have any sebaceous glands?  Yep that's right.  No wonder they often become dry and chapped – cue lip balm!
As the layers of skin on our lips are thinner than other parts of our body, it makes them extra sensitive, so it's super important that we put the right kinds of products on this delicate skin.
Decisions, decisions!
There are so many decisions to make when searching for the perfect lip product. Balm or gloss? Colour or no colour? Flavoured or unflavoured?  Ever bought a lip product that cost an arm and a leg only to be disappointed by its performance?  Well, now is your opportunity to design and create your very own personalised lip product that ticks all of your boxes, with a little experimentation and the help of our quality products!
We've got everything you need to develop the perfect lip product; a wide variety of ingredients from which to customise not just the flavour and colour but the texture too.  Lip balm newbie? Not to worry, we've got you covered.  With our pre made lip bases it's as easy as melt, add flavour + sweetener, pour into pots and repeat!
Flavour

Our range of Natural Lip Flavours are oil soluble and completely alcohol free. With flavours ranging from Toasted Coconut, transporting you to a secluded, tropical island, to Cotton Candy, reminiscent of childhood innocence and days spent at the local fair, you are sure to find a flavoured oil to tickle your fancy. Be sure to check our website for the usage guides, as they can differ depending on what flavour you choose.  Please remember NOT to use fragrance oils in your lip products!  We supply a carefully curated line of lip-safe, edible flavours, designed specifically for your delicate but luscious lips.
One important thing to remember with lip flavours is that they don't 'taste', as the name implies. That's where Lip Sweetener comes into the equation. Once you add Sweet Lips Sweetener and inhale the fragrance oil on the lips, it tricks the brain into thinking it is 'tasting' the flavour. Go ahead and try it!  Sweet Lips lip balm sweetener can also be used alone for a touch of sweetness in your recipe. The recommended usage rate is 1 – 3% when using with another flavour, and up to 6% without any additional flavour – don't forget to taste test!
Essential Oils?
Now, whilst on the topic of flavouring, essential oils are great, but we don't encourage using them in lip products. It's important to remember that even though essential oils are natural, they are really, really strong. Our lips are very sensitive and we wouldn't want them to burn. Some essential oils are photosensitising too (lime, orange and other citrus), which means that there is a chance of causing pigmentation through sun damage, which is obviously less than ideal. So proceed with caution!
Colour
When it comes to colouring our lip products, we supply a range of Lip Safe Colours, from pearlescent Micas, to matte Dyes and Oxides, to glitters, adding pigment and sparkle to your pretty pout. Remember, not all micas and colourants are created equal (well, in the lip sense anyway), so be sure to check for our lip safe approval under product suitability. Colourants aren't essential in lip products, so feel free to leave it out if you prefer a more natural finish.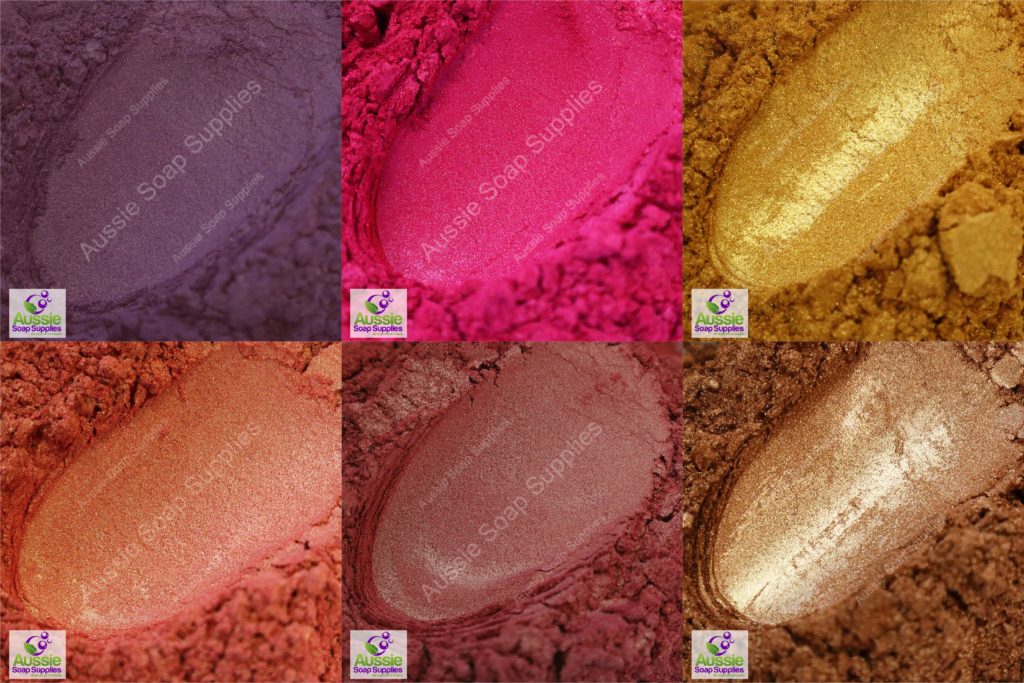 Pre-Made Bases
Short on time or just getting started and need a head start? We supply our own tried and tested pre-mixed lip balm bases to simplify your experience. Our Premium Lip Balm Base is a beautiful blend of Sweet Almond Oil, Olive Oil and Avocado Oil and combines a balance of Beeswax and Coconut Oil, resulting in a balm that is moisturising and protective, which glides effortlessly onto your lips. We also have a VEGAN pre-mixed base, our Nourishing Lip Balm Base (Vegan), which features Candelilla Wax instead of beeswax.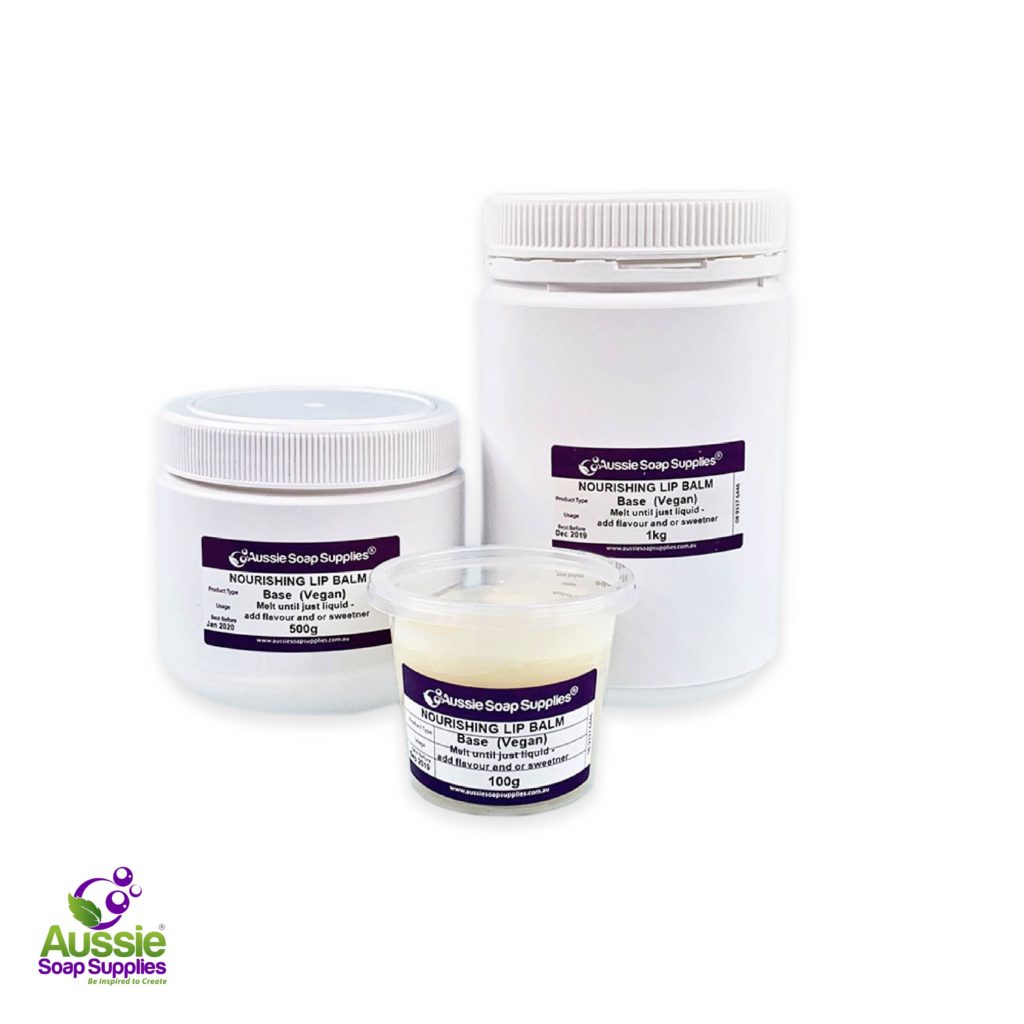 Using our pre-made lip balm bases makes things super easy and takes the guess work out of balm formulation!  Simply melt the base in a Pyrex jug, add your chosen lip flavour, sweetener and colour and pour into your Lip Pots and Tubes, ready for use.  You can also add some liquid oil or oil soluble extracts or vitamins. For more advanced makers, we supply all the individual ingredients so you can create your own "base" and customise to your heart's content. With a variety of Waxes, Oils, Butters, Extracts and Vitamins, the sky's the limit!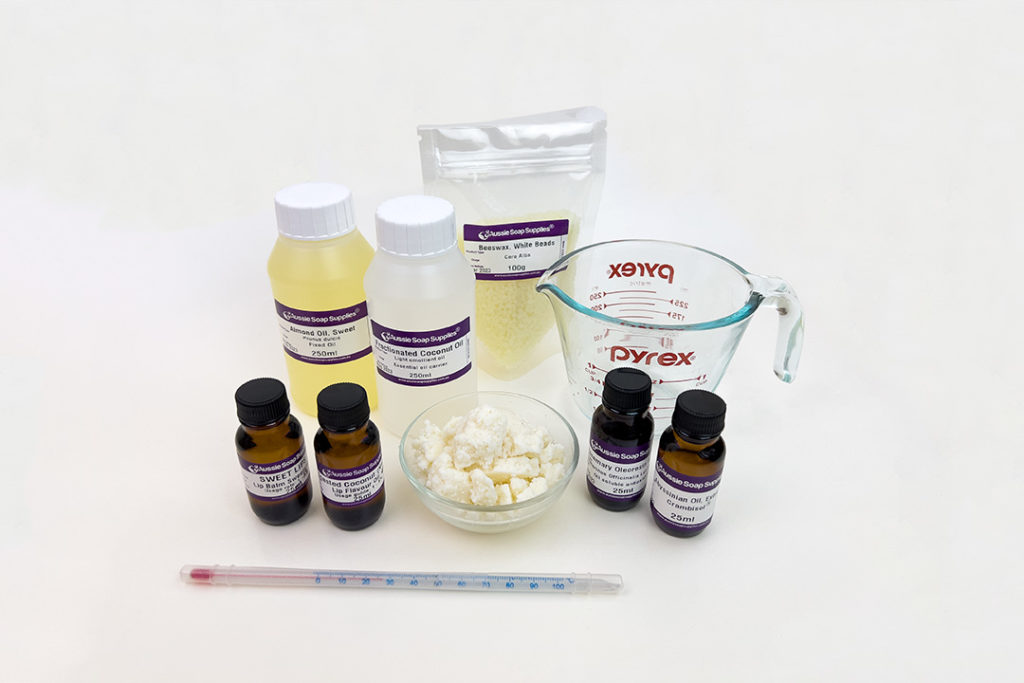 Not quite sure where to go from here? Try one of our curated Lip Kits. Our kits include everything you need to experiment and produce a great quality lip product, with a full set of instructions to get you started.
We also have some great beginner friendly tutorials to help familiarise you with the lip making process in our Recipe Formulary.
So now that you are ready and raring to go, head to our website for our full range of products and free recipes to inspire your creations and pucker up!
First Published October 2017, updated March 2022.