Our Cocoa, Mango and Shea butters are popular for a reason! Smooth, luscious and ready to be whipped, melted and soaped. These high-quality emollient products can be added to lotions and balms to give you a moisturising product leaving skin hydrated and supple.
One of the most appealing aspects of making your own soap and skincare is controlling what goes into the product and being able to choose which ingredients you want to include. Butters are a popular addition and we are about to outline why!
We offer a few different buttery products for you to try and experiment with. Let's do a deep dive into the specifics of each of the big three Cocoa Butter, Mango Butter and Shea Butter, so you can decide which is most suited to your creation.
First up, Cocoa Butter: AKA Theobroma Cacao

What can't this butter do? High levels of antioxidants provide a host of health benefits all while leaving your feeling skin rejuvenated.
Cocoa butter is obtained from the fruit of the Cacao tree – it is the natural fat of the Cacao Bean aka Cocoa Beans! It is refined to a tan/yellow colouring and has a pleasant chocolate like smell. It has a smooth texture that remains quite firm, even in hot climates where other butters can become soft.
Cocoa Butter is particularly high in skin softening and moisturising qualities and is a great addition to moisturisers, creams, balms and body butters for heavier moisturising. It provides firmness and body to many bath and body products as well as contributing to a harder Cold Process soap which is desirable!
Suitable for normal to dry skin, Cocoa Butter is used in a variety of cosmetic, toiletry and pharmaceutical applications to reduce dryness and improve skin elasticity. Did I mention that it can provide anti-aging benefits too? Our natural cocoa butter is safe enough to use directly on the skin.
Suggested Usage Levels: Soap: 3  – 10% % (Up to 15% for a light cocoa scent), Lotions & Creams: 3 – 5%, Balms: 5 – 100%
Next up, Silky Shea Butter AKA Butyrospermum Parkii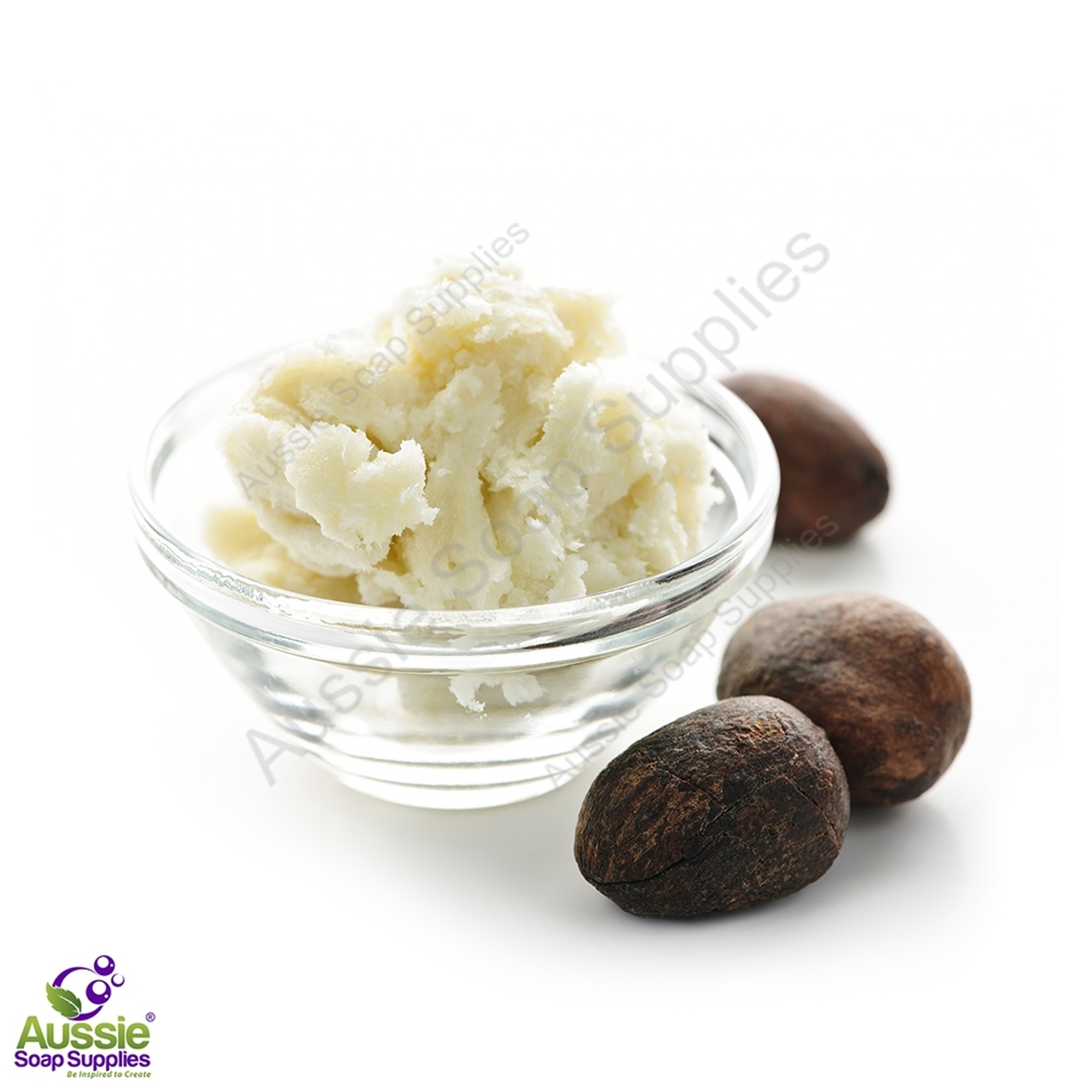 Velvety smooth luxury butter that packs a hydration punch! Full of restorative properties, protecting skin from environmental damage – it is a firm favourite for a reason!
Shea Butter is obtained from the seed of the Karite Tree common to West Africa. Our premium quality Organic Shea Butter is odourless and ivory white in colour. It has a clean, smooth texture thanks to being refined using steam processing, not hexane! This makes it suitable for use in soaps, cosmetics, toiletries and OTC Pharmaceuticals. We never melt our butters to pack them down so you can ensure it is as perfect and luxurious for your skin as it can be!
Shea offers excellent emollience to all products and is a must in moisturisers and soap. It helps to protect the skin from harsh weather conditions, both the heat of summer and the cold winter winds. Shea is useful for dry and aging skin types and can be applied directly to the skin as it is completely natural and non-greasy!
Shea has generous moisturising properties. We just love whipped shea for an amazing hair treatment that adds moisture and gloss for luscious locks! Our Organic Shea Butter melts on contact with the skin, making it an excellent choice for lip balms, bar soap, skin creams and lotion bars.
Suggested Usage Levels:  Bar Soap:  3 – 10%, Lotions & Creams: 3 – 5%, Balms: 5 – 100%, Hair Conditioner: 2 – 5%
Last but not least, Mango Butter AKA Mangifera Indica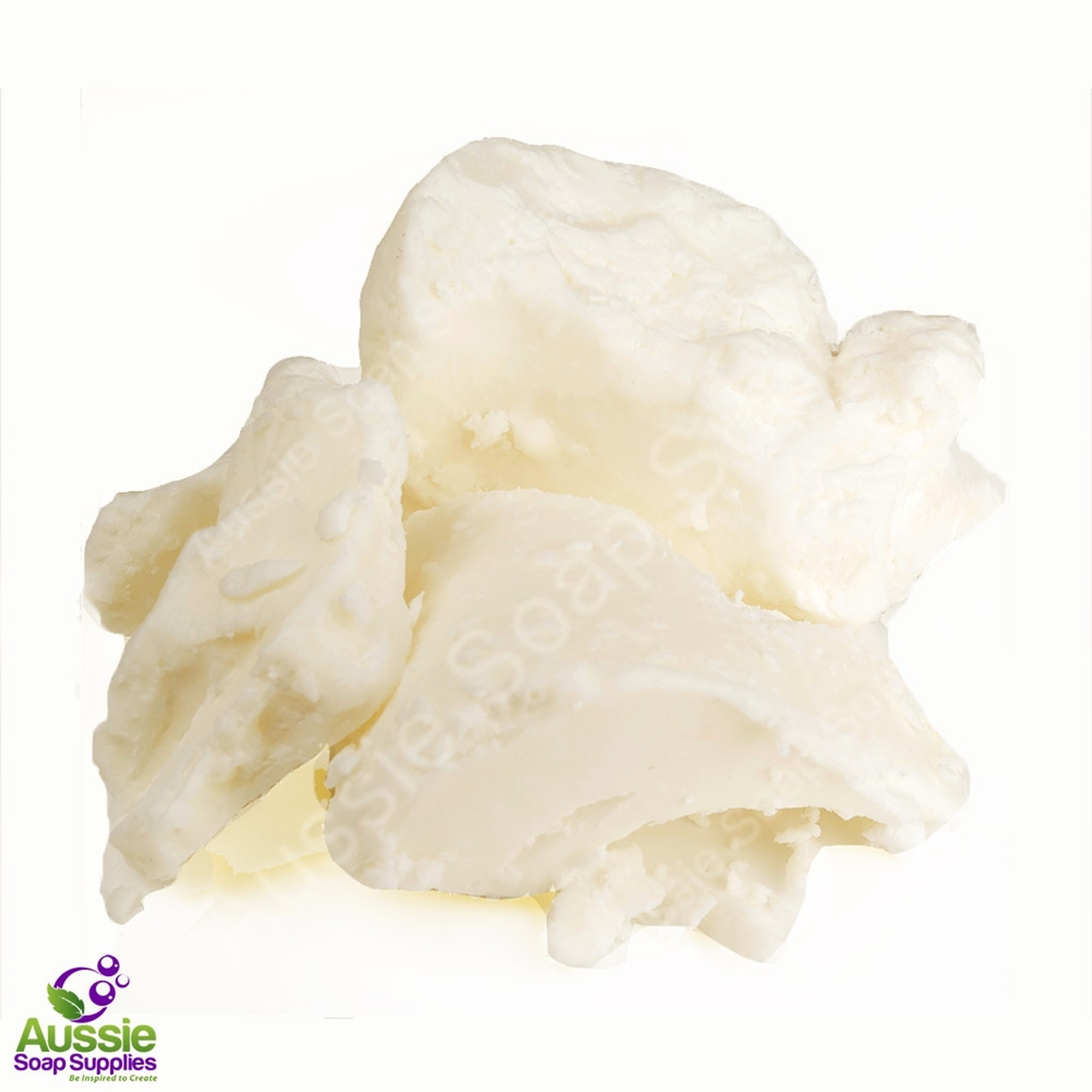 If you're looking for a luxurious, exotic butter, then this is definitely the butter for you!
Mango Butter is obtained from the fruit seed of the mango tree grown in the sub-tropics of India and other parts of the world. It is extracted from the shelled fruit kernels of the mango, which is then carefully refined and deoderised using steam. This makes it suitable for soaps, cosmetics, toiletries and pharmaceuticals. Safe to apply directly to the skin too.
Our Premium Mango Butter is a very firm and solid at room temperature but melts quickly upon contact with skin making it ideal for sticks and balms. It is excellent in all skincare products and a great addition to soap. Rich and luxurious, highly emollient, softening and packed with all the necessary moisturising properties that you could hope to add to your skincare creation!
Suggested Use Levels: Soap: 3 – 8%, Lotions & Creams: 3 – 5%, Balms: 5 – 100%
Beautiful Butters!

Now that you are all clued up, there is no excuse for dull, lack lustre skin. Ready for your skin and hair to benefit from all that nature has to offer? It's time to add some butters to your next skincare recipe and see the effects for yourself! With the benefits of butters, say hello supple, smooth skin all year round!
Recipes and Projects from our FREE Recipe Formulary for you to try!