Don't we all just love a little Loofah scrub down to smooth and exfoliate our tired bods! But this versatile veggie can do so much more than scrub away old skin! Loofah (Luffa), Mother Nature's all natural, multi-purpose exfoliator, can not only be used to thoroughly clean and massage your skin but can also serve as a biodegradable, compostable kitchen and household cleaning product!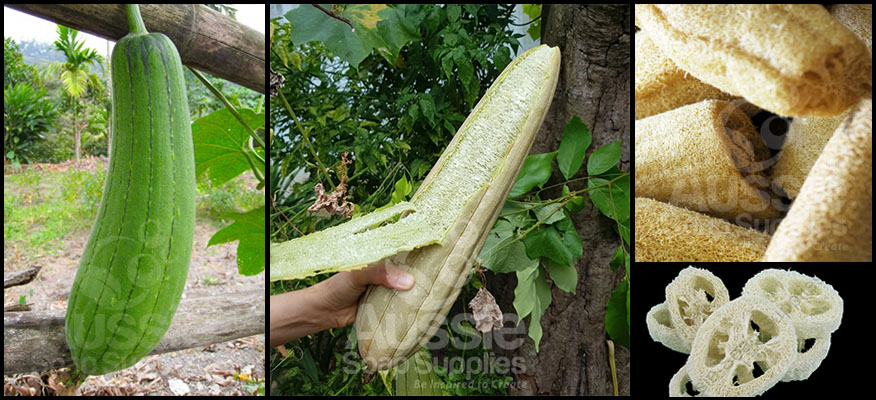 Loofah (Luffa) is a vegetable from the Cucurbitaceae (Cucumber) family, which grows in tropical and subtropical environments. When harvested early, this super substance can be used in cooking and is very popular in Indian, Chinese and Vietnamese cuisines. When left to mature on the vine, the skin and flesh of the Loofah dry and fall away and you're left with the ultimate eco-scrubby!
Usage Tips and Applications
Skincare
Cleansing and massaging with a loofah helps to stimulate peripheral circulation, drain the lymphatic system, and exfoliate the skin; it's a lot of result from such a humble veggie! Removing dry, dead skin cells helps to regenerate the growth of new skin cells, leaving your skin looking and feeling softer and smoother after each use.
Loofah is a tough exfoliator, so it's recommended to moisten the sponge before use, especially on delicate or aging skin. By moistening, it is less aggressive but still sloughs away dry and flaky skin.  Use with shower gel or incorporate into a soap bar and lather up!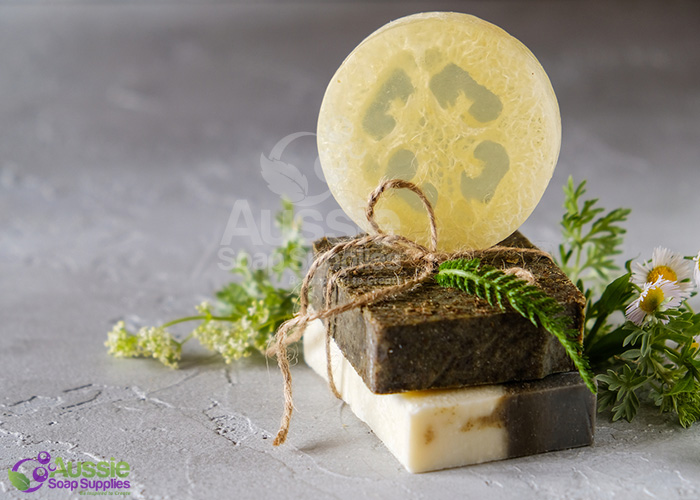 To Use on the Skin
Wet the Loofah sponge before first use. This is particularly important for mature skin, as our skin becomes thinner and more delicate with age.
Massage using circular movements, starting on the palms of the hands or feet, then work up the body towards the heart.
If you have very delicate skin or have areas of red or broken skin, be gentle! Use very little pressure and ALWAYS use the Loofah wet, never dry.
The healthier and more youthful the skin, the more vigorous a massage it can take, but tailor the intensity of your massaging to suit your personal preference.
To reshape your new Loofah sponge, wet it and it will soften immediately, it can then be reshaped as required and allowed to dry.
Like a toothbrush, it is a good idea for each member of the family to have their own Loofah.
Discard your loofah after 3 months or so of use and replace with a new one (yes, just like a toothbrush!)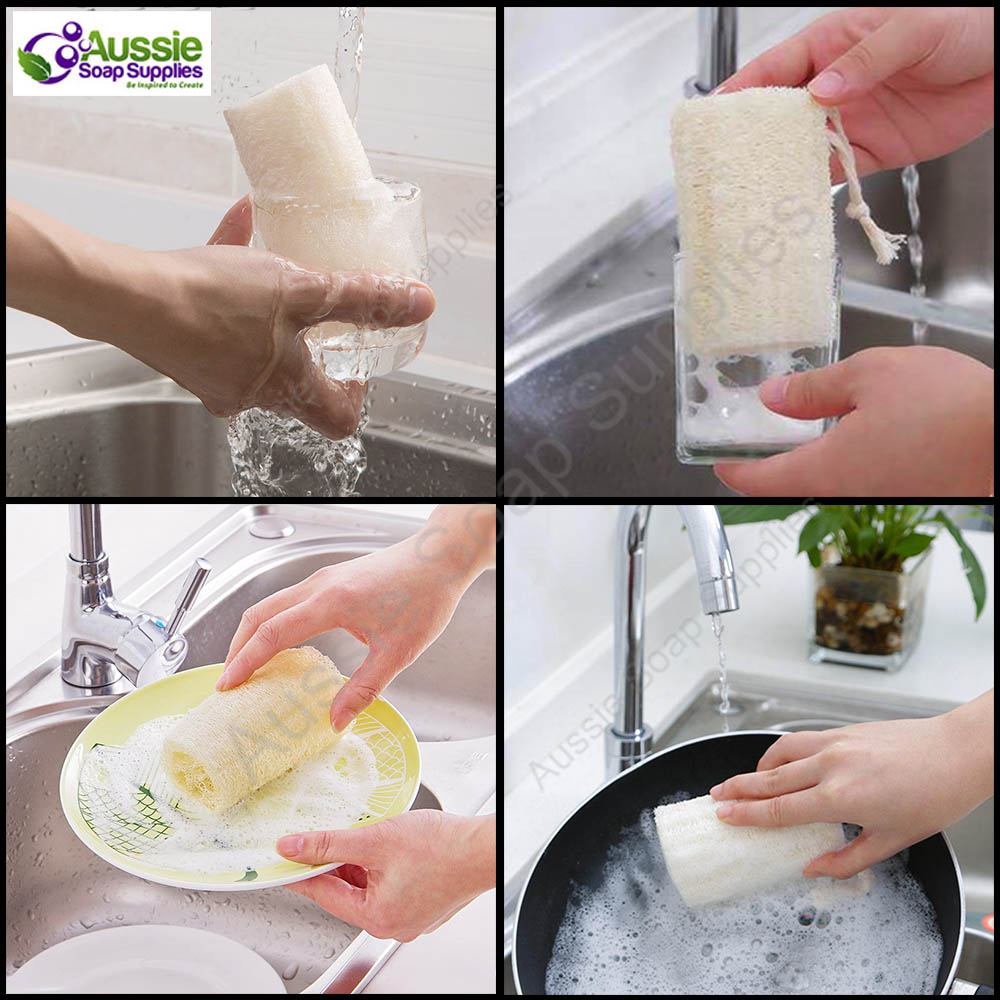 Kitchen Sink
Moisten before use, or wear gloves if you have delicate skin.
You can use loofah to wash glassware, plates, cookware and surfaces.
For more aggressive cleaning, add some ground pumice or other mechanical cleansing paste on stubborn or burnt food on dishes and pans.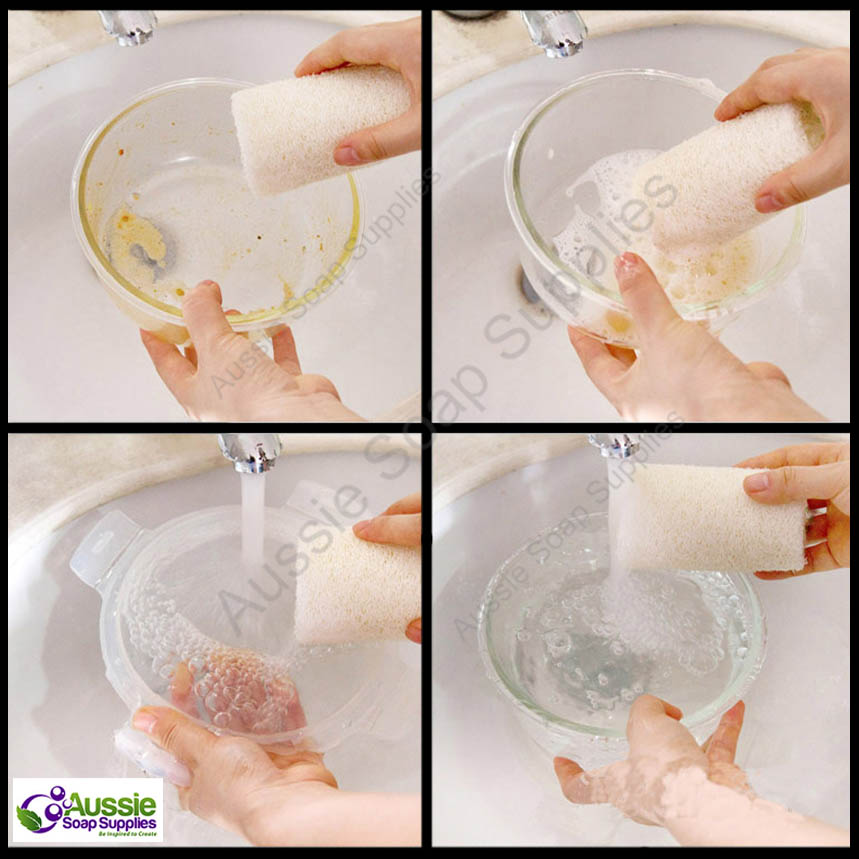 Household  – Floors, Surfaces and Bathrooms
Use Loofah to clean shower recess and floors – you'll need to adapt to your floor mop!
Moisten the Loofah to clean smooth surfaces (and don't forget if you have new or shiny surfaces ensure they are suitable to have a scourer to clean without scratching).
Dry Loofah is more abrasive than when moistened, so if removing any build up, treat with your cleaner first to moisten the stain and then scour with a dry loofah.
Use together with your preferred cleanser to scour spots on tiles, sinks, shower recess, baths etc.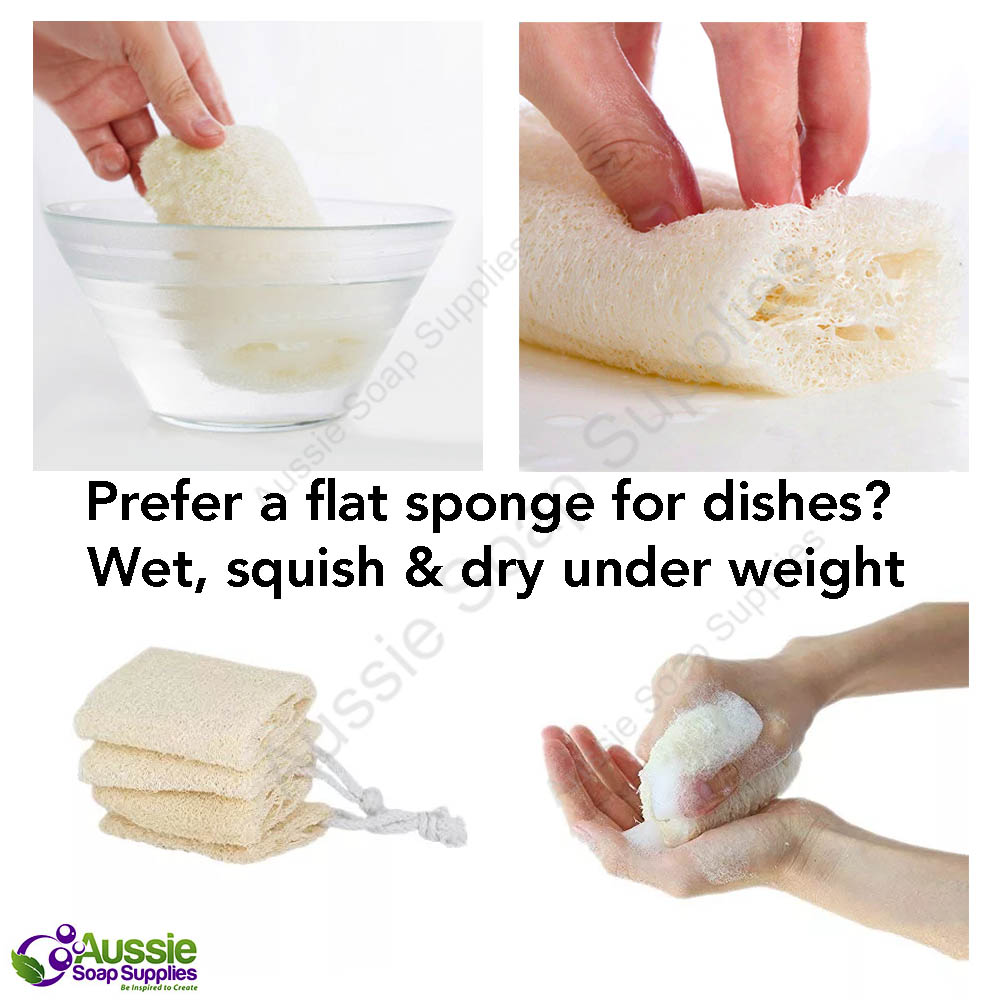 Loofah Care and Maintenance
Don't be accused of having a breeding ground for bugs and mould! Just like other natural materials, you'll need to take care of your loofah to ensure it is clean and happy!
Keep any mildew from a damp bathroom at bay by drying out your Loofah between each use.
Loofah Sponges will even handle a machine wash once or twice to clean and sanitise for further use.
For heavy duty sanitising, soak the Loofah in bleach for 10 minutes in a solution of 1 part bleach, 9 parts water, then allow to dry in the air, preferably in sunlight. Then use the bleach-water to clean the toilet or drains so at least it gets used twice.
You can even pop your loofah in the dishwasher on the regular wash cycle.  Again, leave in the sun to air and then put back into use.
After three months of use in the shower it's usually time replace your loofah – pop it in the compost or your green waste; the fibres will naturally decompose over time.