Introducing our NEW, ECOCERT, and COSMOS certified, readily biodegradable Conditioning Emulsifier, VARISOFT® EQ 65. 

This specialty ingredient helps improve the conditioning properties of wet and dry hair and also acts as an emulsifier providing the distinctive dry and powdery skin feel typical of cationic emulsions.
VARISOFT® EQ 65 is a cationic (or positively charged) ester quat, derived from Stearic Acid, combined with Cetearyl Alcohol, which acts as a thickener and conditioning agent for rich and creamy hair conditioners. Formulations made with Varisoft EQ 65 are conditioning to skin and hair, improving wet de-tangling and combing, and offering a superior feel to blow-dried hair.
This product can also be used in skin care formulations for a cushioned, conditioned after feel.
See full details on the website HERE and our full range of Hair Conditioning Ingredients HERE
Applications
• Eco and natural hair conditioners, leave-in conditioners, and masques
• Moisturisers and lotions
• Smooth and low tack after-sun creams and lotions
Note:  VARISOFT® EQ 65 is NOT recommended for bleached, dyed, chemically processed or damaged hair. (Use BTMS25 or BTMS50).
VARISOFT® EQ 65 has a high melt point: 80 – 85°C, and it is important to take the formulation temperature to 85°C.  Another processing tip is to ensure that you give the cool down formulation (at around 30 – 40°C) another quick stick blend to achieve the maximum viscosity.
Basic Eco Conditioner with Varisoft EQ 65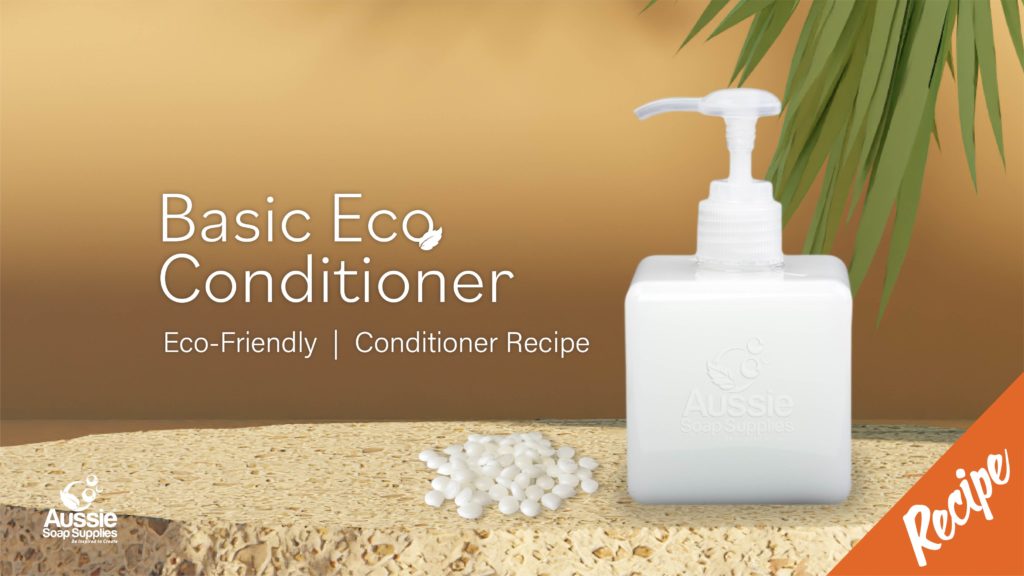 This natural formulation has minimal ingredients and is a wonderful starting point for a basic hair conditioner.  Customise the formulation to suit your needs by replacing some of the distilled water with infused waters, herbal extracts, or botanical extracts.  We recommend the addition of Genadvance Hydra at 1 – 2%.
You can see the full recipe and add the ingredients required to make it to your cart HERE  and formulation tips HERE.
Makes a small trial batch of 300g
Phase A
267g Distilled Water (89% – adjust as necessary to make formulation to 100%)
9.5g Varisoft EQ 65 Pastilles (3.2%)
13g Cetyl Stearyl Alcohol (4.3%)
6g Glycerine PF (2%)
Phase B
1.5 – 3g Preservative (0.5 – 1%)
1.5 – 3g Fragrance or essential oils of choice (0.5 – 1%)
Method & Notes
• Combine Phase A ingredients and heat to 85°C whilst stirring. Continue mixing until all ingredients are dissolved. Combine with stick blender (keep blades under the surface) for 30 seconds.
• Once homogeneous, stir periodically during cooling to approximately 40°C
• Then add the required percentage of preservative for the brand you are using at the recommended temperature (which is generally 0.5 – 1% added at around 40°C) and mix well to combine
• You achieve maximum viscosity from giving the nearly cool mixture a final mix at around 30 – 40°C.
• Adjust to pH 4 – 4.5 with a 50% citric acid solution.
• NOT recommended for bleached, dyed, chemically processed or damaged hair. (Use BTMS25 or 50)
• Don't forget to adjust the quantity of distilled water to allow for the amount of preservative and fragrance you add.