You can now obtain a no frills print out, email or PDF of all the recipes and articles in our Free Recipe Formulary.
New customers may not be aware that we launched a new and updated website in late July 2020.  This was only a couple of months before a fire destroyed our entire stock and premises.  At that point, we had not yet finished tweaking and rebuilding some aspects of the new website – and one of these major areas was the recipe formulary.  Some things on our new website wants list are not currently possible now as we need to focus on rebuilding the business.  We hope to get back to these after our premises has been rebuilt.
NOTE: Unfortunately for now, we are unable to remove the  "Wish List" button from the pages in the formulary, so please ignore this!  The following guide will help you navigate and get the most from our formulary.
Type of Pages in our Free Formulary
We have several types of pages in our formulary:
Pictorial Kit Tutorials that go with our Kits to make things a little easier
Recipes and Articles with no shopping trolley items attached
Recipes and Tutorials with a shopping trolley list attached
Free Info Pages and How-To Documents with no shopping trolley items attached
Pictorial Kit Tutorials – just scroll on down!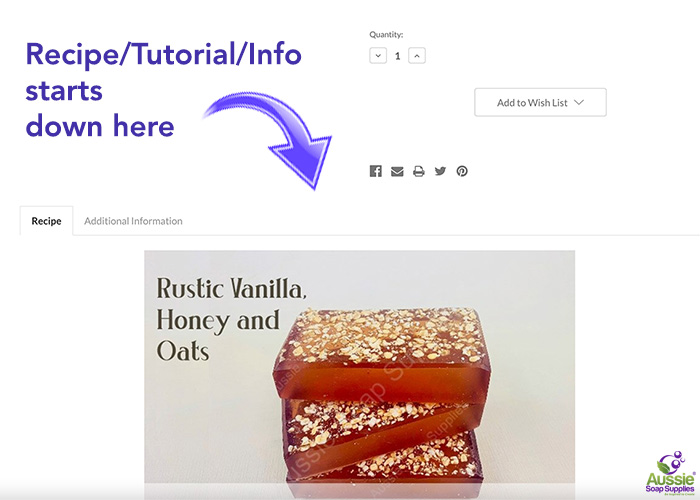 Recipes with No Shopping Trolley Items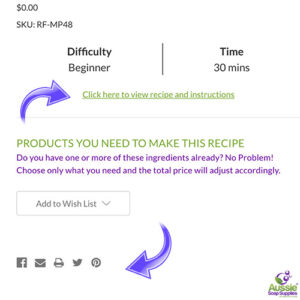 For mini tutorials, info pages or recipes not connected to our shopping trolley system.  Just click the hyperlink to go straight down to the information or instructions.
Recipes – with a shopping Trolley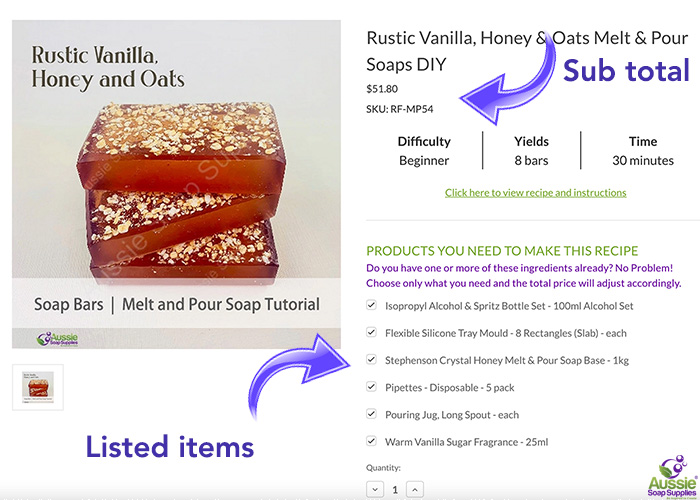 If there are items listed for purchase connected to the page you can see them here.  There is also a sub total at the top.  Click or unclick items for inclusion or removal from the trolley. The total price will adjust accordingly.
The Basic "print" Option on All Formulary Pages

You can email a copy of the tutorial to your inbox.  Or by clicking the print option you can either print the recipe tutorial, or save the tutorial as a PDF on your computer or device.  If you have a Pop Up Blocker you will need to disable this for our site to enable this function.